DATE:

AUTHOR:

Chord Product team
Autonomy (Chord OMS) Analytics
Feature Announcements
Multi Touch Attribution Models | Autonomy
DATE:
AUTHOR: Chord Product team
What Are Attribution Models?
Attribution models provide more visibility into marketing performance: they assign traffic and sales to their respective marketing channels.
There are many types of attribution methodologies out there. Until now, Chord supported first-touch attribution at the visitor level, which allowed Chord clients to see which channels brought visitors and associated purchases to their websites for first visits to the site.
We're now releasing multi-touch attribution models, including three new types of attribution.
Chord's New Multi-Touch Models
Note: Only sessions before a user's first purchase are counted towards attribution.
Completed Orders Attribution

Net Revenue Attribution

First-touch

The first session gets 100% of the attribution points.

Linear — NEW

All sessions get assigned an equal portion of the attribution points.

Forty-twenty-forty — NEW

The first and last sessions each get assigned 40% of the attribution points, and the sessions in-between get an equal portion of the remaining 20%.

Last-touch — NEW

The last session gets 100% of the attribution points.
User Stitching

The attribution models are also now coupled with user stitching. When visitors navigate a brand's website, they remain anonymous until they identify themselves (For instance, when a visitor logs into an account or makes a purchase). This often creates multiple anonymous profiles for the same customer. Chord solve for this is user stitching, a process in which we tie together all of a customer's sessions, anonymous or not, into a single user ID.
In this V1 release, we include user-level attribution to provide better visibility into the customer journey.
Note: Since attribution will now be at the user level, when comparing Chord's former first-touch models with our new multi-touch models, aggregated measures such as order count, completed order count, net revenue and gross revenue should be slightly higher in the new multi-touch models since measures are now tied to the user_id, which is often associated with many anonymous_ids.
User-Level View of Multi-Touch Attribution
Here's an example of how multi-touch attribution might look for a specific user: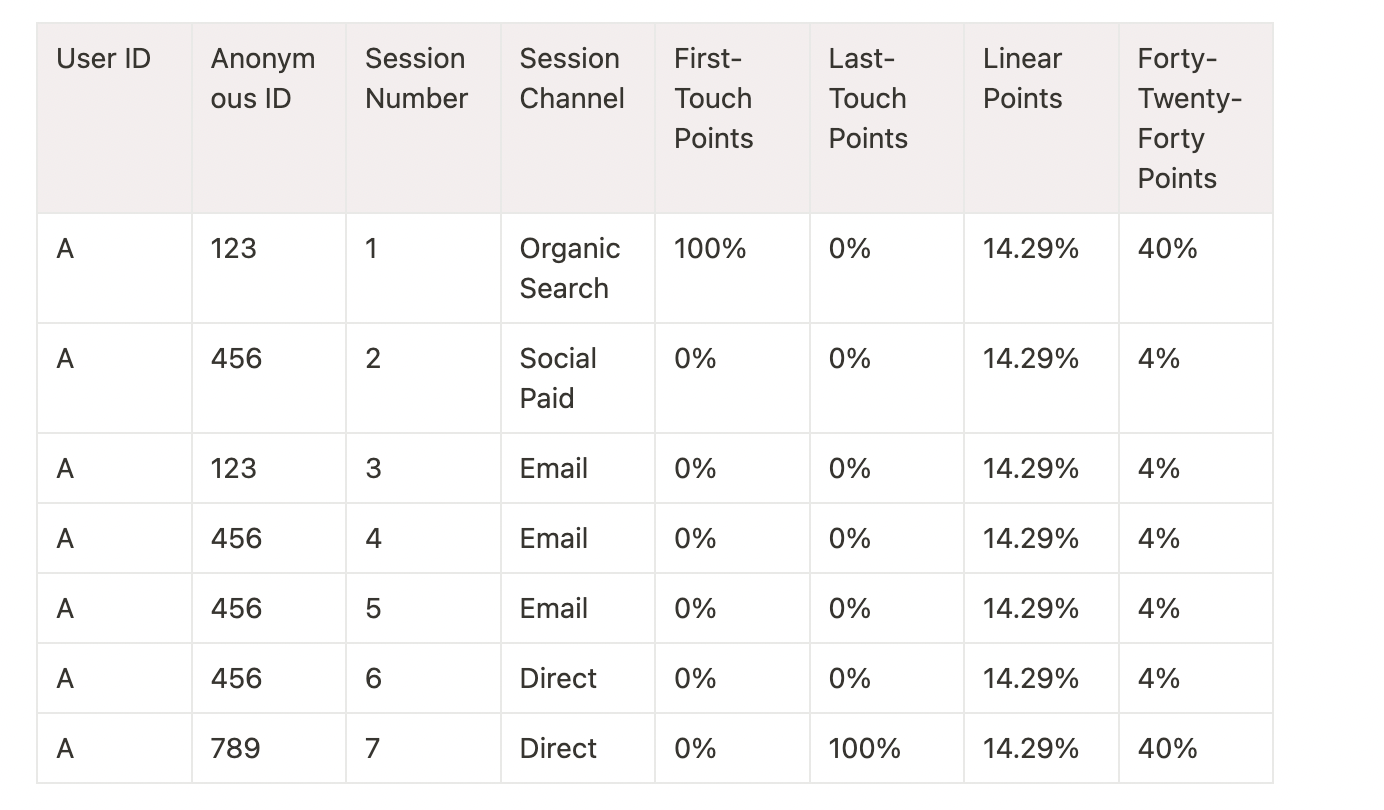 If you're using the Chord OMS, you can check out these new multi-touch attribution models inside the Chord Hub. Please reach out to help@chord.co to troubleshoot access or sales@chord.co for a demo.